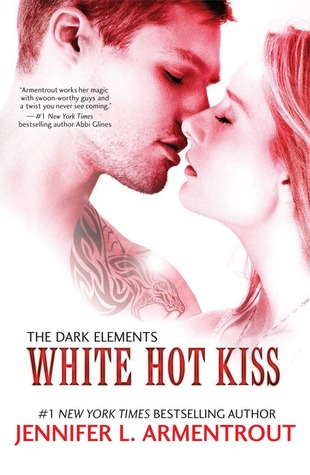 Title: White Hot Kiss
Series: The Dark Elements (Book 1)
Author: Jennifer L. Armentrout
Published: February 25, 2014
Pages: 400 pages
Format: eBook
Source: Purchased
Summary (Goodreads):
One kiss could be the last.
Seventeen-year-old Layla just wants to be normal. But with a kiss that kills anything with a soul, she's anything but normal. Half demon, half gargoyle, Layla has abilities no one else possesses.
Raised among the Wardens—a race of gargoyles tasked with hunting demons and keeping humanity safe—Layla tries to fit in, but that means hiding her own dark side from those she loves the most. Especially Zayne, the swoon-worthy, incredibly gorgeous and completely off-limits Warden she's crushed on since forever.
Then she meets Roth—a tattooed, sinfully hot demon who claims to know all her secrets. Layla knows she should stay away, but she's not sure she wants to—especially when that whole no-kissing thing isn't an issue, considering Roth has no soul.
But when Layla discovers she's the reason for the violent demon uprising, trusting Roth could not only ruin her chances with Zayne… it could brand her a traitor to her family. Worse yet, it could become a one-way ticket to the end of the world.
___________
It's hard to review this book because all I can think about when it pops into my mind is ROTH. Like, lovely cover ROTH. I loved the idea ROTH. Roth, Roth, Roth. It's been a while since I've come across a character so magnetizing, so incredibly alluring that it's no wonder he makes me forget about everything else. I'm pretty sure the rest of Team Roth will back me up on this.
It's just that this guy is freaking gorgeous and one of the best book boyfriends EVER (well, maybe not the best as in the true meaning of the word). He's bad-boy perfection, but underneath that devilish persona hides someone sweet and unique. I mean, he has KITTENS. And also a snake tattoo that is as terrific and as real and alive as he is.
But in all seriousness and trying to push Roth aside (almost impossible) I have to say that White Hot Kiss blew me away. It was a thrilling read and best of all, different because we are dealing with gargoyles, and not with your everyday paranormal creature. There's a lot going on with these creatures in this book and I'm fascinated by how they are described – gorgeous, strong, possibly heaven-like and supposedly the good guys. Well, I'm not so sure about that, but I'm excited to find out if that's their true colors.
On the other hand, we also come across demons and other creatures from hell who are supposed to be the bad guys of the story. Maybe they are, but there's more to them that what meets the eye, and Roth is proof of that (have I said that I love him?).
However, the most exciting aspect is how the main character is half gargoyle and half demon. She has been protected all her life by the Wardens (gargoyles), despising her demon side because she has been led to believe that her soul is tainted by it and that she's not pure. But when Roth shows up unexpectedly, saving her from a difficult demon, Layla's world gets turned upside down and now she must uncover what she truly is and why they are after her.
With a heart-pumping action, blistering feels, and a love triangle that has no chance of happening because ROTH is the guy (sorry, wishful thinking I really don't know), White Hot Kiss is the perfect start of a series that will leave you itching to start the sequel immediately!