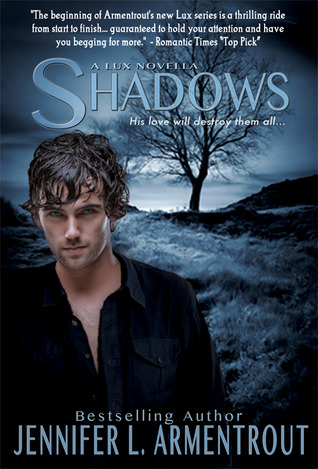 Title: Shadows
Series: Lux (Book 0.5)
Author: Jennifer L. Armentrout
Published: February 21, 2012
Pages: 179 pages
Format: eBook
Source: Freebie
Summary (Goodreads):
The last thing Dawson Black expected was Bethany Williams. As a Luxen, an alien life form on Earth, human girls are…well, fun. But since the Luxen have to keep their true identities a secret, falling for one would be insane.
Dangerous. Tempting. Undeniable.
Bethany can't deny the immediate connection between her and Dawson. And even though boys aren't a complication she wants, she can't stay away from him. Still, whenever they lock eyes, she's drawn in.
Captivated. Lured. Loved.
Dawson is keeping a secret that will change her existence…and put her life in jeopardy. But even he can't stop risking everything for one human girl. Or from a fate that is as unavoidable as love itself.
___________
I haven't read the Lux series yet (I barely know who Daemon Black is) but I've heard so much about how wonderful and exciting it is that I finally decided to find out why. And whoa, let me say that if the full-length novels are as good as this novella, then I've been terribly missing out.
The main focus in Shadows is the relationship between Dawson and Bethany. He is an alien, she is human, and although it's not forbidden for aliens to hook up with humans, it is forbidden to let them know about their their true identity. But when you fall in love, you lose control, and that's when things get dangerous.
I fell so in love with Dawson Black that it was hard to reach the end of this lengthy novella because I didn't want to say goodbye. His character, his background, and everything surrounding him was an absolute joy to read about and the pages flew by without me noticing.
I know that everybody loves Daemon, but man, I don't see how he could beat him. I'm basically rating the guy here (kidding, the story was cool too!). And speaking of which, I felt intrigued about these Lux aliens. Shadows gives us a brief introduction on how their lives work, how they must act and blend in on Earth, but there's a lot that I'm still clueless about. I know this is something I'll learn on the first complete book, Obsidian, so I'm  trying to not lose my mind over it.
Shadows was such a sweet and thrilling read, but it also broke my heart at the end of the book. I wasn't expecting it (still spoiler-free, yay) yet I have the feeling that things aren't how they look like and there's more to it than what we're told. I seriously hope that my hunch turns out to be true.
So overall, wonderful read!