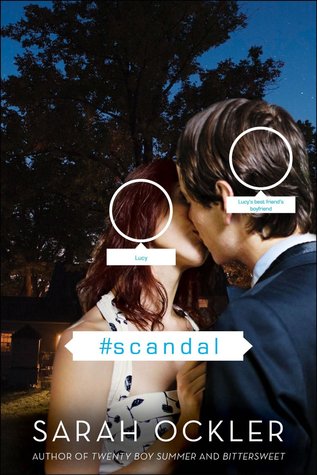 Title: #scandal

Author: Sarah Ockler
Published: June 17, 2014
Pages: 411 pages
Format: ARC
Source: Library
Summary (Goodreads):
Lucy's learned some important lessons from tabloid darling Jayla Heart's all-too-public blunders: Avoid the spotlight, don't feed the Internet trolls, and keep your secrets secret. The policy has served Lucy well all through high school, so when her best friend Ellie gets sick before prom and begs her to step in as Cole's date, she accepts with a smile, silencing about ten different reservations. Like the one where she'd rather stay home shredding online zombies. And the one where she hates playing dress-up. And especially the one where she's been secretly in love with Cole since the dawn of time.
When Cole surprises her at the after party with a kiss under the stars, it's everything Lucy has ever dreamed of… and the biggest BFF deal-breaker ever. Despite Cole's lingering sweetness, Lucy knows they'll have to 'fess up to Ellie. But before they get the chance, Lucy's own Facebook profile mysteriously explodes with compromising pics of her and Cole, along with tons of other students' party indiscretions. Tagged. Liked. And furiously viral.
By Monday morning, Lucy's been branded a slut, a backstabber, and a narc, mired in a tabloid-worthy scandal just weeks before graduation.
Lucy's been battling undead masses online long enough to know there's only one way to survive a disaster of this magnitude: Stand up and fight. Game plan? Uncover and expose the Facebook hacker, win back her best friend's trust, and graduate with a clean slate.
There's just one snag—Cole. Turns out Lucy's not the only one who's been harboring unrequited love…
_________________
Fun, fun, fun! Aw come on, who doesn't love juicy scandals? (Don't lie) Everywhere you go, you can bet your favorite shoes to at least hear a sweet piece of scandal traveling around. And most of the times, you can certainly tell they are, in fact, lies. Harmless juicy lies. Except, people do tend to get too much into them and judge you before you even have a chance to explain yourself. You see, nowadays you get your news on social media and everybody KNOWS social media does not lie, right? *snort*
#scandal is all about the effects a few photos on Facebook, for example, can cause on your reputation. Lucy goes from being a normal zombie-shredding girl, to the worst person on planet Earth. Because she cheats on her BFF by kissing her BFF's boyfriend (who she secretly crushes), then she kisses another guy in less than 10 minutes, and after that she uploads on her Facebook profile compromising pictures of herself, Cole and everybody attending the party they were at (lie!).
I have to give it to Lucy, I don't know how in the world she managed to step into her school and face all the name-calling and death glares people gave her because of the photos. Lucy is bullied online and in real life non-stop and everywhere she goes, people believe she is a terrible person. Yeah, she did kiss her BFF's boyfriend and then another guy in the same night, and though it was wrong, it was not exactly what it looked like. To be fair, she was just as guilty as the other guy, Cole, yet he doesn't suffer as much as Lucy does.
But even though this book's story comes out of the scandal, the main plot is about finding the source, who hacked and uploaded the photos on Lucy's Facebook. It turned out into an exciting mystery to solve. I was just a few chapters shy from finishing the book and I still had no idea who was Miss Demeanor or the hacker. I had my suspicions but I found out I'm a terrible detective.
The characters that came into the story to support Lucy were factastic and so unique and weird all at once. Lucy herself was hilariously sarcastic. I liked her personality although I didn't approve of many of her actions. I think she could have done several things differently and have gotten rid of the mess much faster.
I loved that #scandal teaches you lessons about social media and cyber-bullying in an entertaining way. I'll certainly think twice about it before hitting that like, share or comment button on any media from now on and I know many readers will feel the same way. I can't wait to get my hands on the other books by Sarah Ockler, because if they are as good as this one, then I'm missing out on much.
#Melissaout