Hello. Um, I know this post just screams February 14 but there's a good reason for that: I can't always comprehend words, it seems, and thought this would go live on Valentine's Day. So, if you would, pretend its heart and candy day while your eyes travel down the page. You're awesome. Kthanksbye.
Based on how many romance novels are released every day, one might think it's super easy to pen one. And it is. Now, to write a good one is an altogether tougher task. Anyone can take a single lady, throw some money, kink and a big strong man to save her into the mix and *boom* you've got the next 50 Shades of Gray. But that's not really something to be proud of. Let's be honest here; Gray is a poorly written tome (and an even worse film adaption). And before you get all hate maily, let me finish (that way you can yell at me good and proper).
Some of the terrifying terribly staples that pop up time and again include the lustful pirate who "seduces" the virginal maiden into love, the girl-with-the-tortured-past who needs a Man to save her, new-to-BDSM wholesome ladies who love every weird thing the (confused) author throws at them and, of course, the princess in the tower.
There's nothing natural about any of these scenarios, no truth in the narrative. How romance has moved so far from the emotions that inspired the genre, I don't think I want to know (but I'm thinking cash cows like 50 Shades has something to do with it). Now excuse me while I complain about the state of romance stories.
TIP: stay away from drivel such as Twilight, 50 Shades of Grey and The Vampire Diaries. Unless you want to know what not to do; in that case, have at it.
GIRL POWER
Most romances have a lady character at the center of it but so many of them are weak and sad and pathetic and in need of a big, strong man to make her world worth living in. Even when she doesn't start out that way, after meeting her guy, she can't even choose which socks to wear without his expert guidance. Ugh. Maybe we can have some lady leads that don't end up placing all their value in a lousy relationship with giant jerks? Hm.
STOP THE ABUSE
Christian abuses Anastasia. If you don't see it, I question your 20/20 vision. He spends so much time controlling and stalking her, I'm amazed he can still run his multi-billion dollar business. Maybe he's fueled by the tears of the miserable? And he's not the only one; mean man plus innocent girl runs rampant in romance and has the added bonus of sending an awful message: just because he's cruel doesn't mean he's not your soul mate. Just take it until you can fix him. And just like that, he'll know what love is. Um. How about some women who don't rely solely on the power of love to make a bad man good? Either have the dude not be an abusive tool or have her see the signs and know to leave or portray it as what it is: abuse. Seeing the latter two don't exactly scream ROMANCE, just have a decent dude (or dudette) be the one.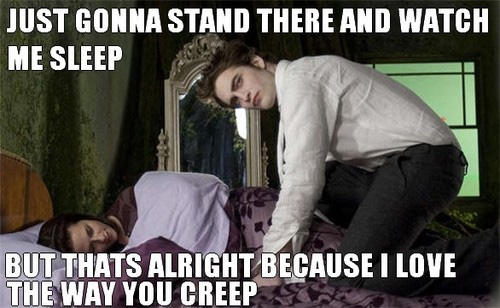 THE ALPHA MALE
Six feet tall with big muscles, lots of cash and a huge… car. All bow down before him and give into his every whim. There is no one above him. He is the apex man. And he's boring. Just once I'd like to see the heroine fall for the mail room guy instead of the CEO with a sordid past. Make him short, six pack-free and not super frikkin rich. Heck, make him a bloody virgin instead of her (cause that's totes old, too' women have libidos and use them so why do book ladies always seem to come orgasm-free?) just for shoots and googles. Try a beta for once. Just not Edward. Please.
MISS INDEPENDENT
STOP making her struggle to make the bills until he steps in and drops piles of cash on her lap. STOP putting her life in his hands. STOP writing clueless girls who can't even turn on a computer. Make her capable of more than falling apart. Do You want to write good romance? Write realistic characters. More independence and less codependence are a nice start. She doesn't need to be an ice queen but don't surgically remove her spine.
DO YOUR OWN THING
If you're setting off on a romance writing adventure, I beg you to use that big, beautiful brain of yours and inject some much-needed non-nonsense into the genre. You don't need to reinvent the wheel; just make sure you're not driving around on a flat. And when in doubt, ask yourself what multi-loved Buffy would do.
Also, in honor of the amazing holiday, have a HAPPY WALKING DEAD DAY!!