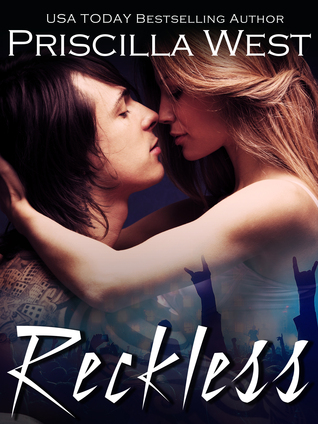 Title: Reckless
Series: Reckless (Book 1)
Author: Priscilla West
Published: August 4, 2014
Pages: 328 pages
Format: eBook
Source: Netgalley
Summary (Goodreads):
Everything about him warned me to stay away.
I'd seen bad boys before, but he had it all and more. The rippling muscles covered in tatts, the piercing eyes hiding dark secrets, the silky voice that could make a girl come with just a whisper . . .
He was exactly the type of guy that would get me in trouble, but when he jumped off the stage, inked skin glistening with sweat and breathed his seductive words into my ear, I couldn't resist the temptation.
It was supposed to be the best one-night stand of my life, but fate didn't let it play out that way. Things happened. I got upset. I got hasty. And worst of all, I got reckless.
After that disaster, I thought it was the last I'd see of him. But what I didn't know was that I'd started something.
Something that could shatter the very thing I had worked so hard to protect.
I should have known back then that the most seductive things in life are also the most dangerous.
___________
Reckless turned out to be an okay read, but not something that wowed me. It's a NA Contemporary Romance that has all the elements that were supposed to make this a great read (like the bad boy rockstar, traveling around, and witty banter) but it didn't manage to pull me in no matter how much I wanted it to.
The main reason has got to be the beginning. At first I thought that Riley was dreaming, or at least hallucinating since it's hard to believe that Jax, the sexy rockstar, could provoke such ridiculous reactions from the audience when he was on stage. It was too much and I didn't like it one bit. It was a rough way to start the story and it made it hard for me to like the characters or get a feel on them.
However, after the rough start, the characters and the plot started to get better. I liked how Riley and Jax get attached, how Riley tries to keep everything professional what with Jax being sort of her boss, and how there's not really much drama between other girls and Riley (which is very common when there's a hot boy involved).
And like most of NA books, the characters have to deal with traumas that seem to have affected their personalities and have made them the person they are to date. Since Reckless is told in Riley's point of view, her problems are quite apparent and are dealt with the help of Jax once things are fine with them. Jax, on the other hand, turns out to be harder to read and his walls even harder to cross. Both of them are broken one way or another, but they make a good team.
The ending was not what I was expecting or wanted. It's not that bad, a bit abrupt maybe, but I guess all cliffhangers are like that. Naturally, it had to end when things were starting to get good. Despite that I didn't get too attached with the characters, it made me want to get the next book in the series to find out what happens, just to get my closure.
Oh well, Reckless may not have made my list of favourite reads, but I still had fun the few hours I spent reading it. It's not a book for everyone, yet I believe many will appreciate everything it has to offer more than I did.