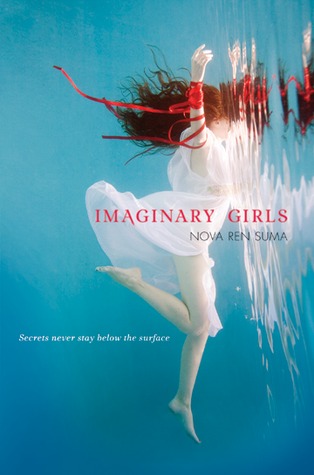 Title: Imaginary Girls
Author: Nova Ren Suma Published: June 14, 2011
Pages: 348 pages
Format: Print
Source: Gift
Summary (Goodreads):
Chloe's older sister, Ruby, is the girl everyone looks to and longs for, who can't be captured or caged. When a night with Ruby's friends goes horribly wrong and Chloe discovers the dead body of her classmate London Hayes left floating in the reservoir, Chloe is sent away from town and away from Ruby.
But Ruby will do anything to get her sister back, and when Chloe returns to town two years later, deadly surprises await. As Chloe flirts with the truth that Ruby has hidden deeply away, the fragile line between life and death is redrawn by the complex bonds of sisterhood.
With palpable drama and delicious craft, Nova Ren Suma bursts onto the YA scene with the story that everyone will be talking about.
___________
Imaginary Girls holds a special place in my heart that no other book will ever manage to take its place. It's a tormenting yet beautiful book and (forgive the cliché) so different. It's different because this book instead of focusing on romance, it revolves around the twisted relationship between sisters.
Ruby, the older sister, is … weird. There's something otherworldly about her that just isn't right. Chloe, on the other hand, is just a regular girl who happened to find a dead body and because of these events, she was sent off to live away from Ruby because she's a "bad influence". They get back together and, despite the time lapse, there's no question about the strong sisterly bond, although things start being surreal and Ruby is stranger than ever.
While this book is told from Chloe's point of view, I believe that Ruby here is the most interesting character. And, Ruby is the one that certainly creeped me out. She has a lot of secrets and her influence on people is quite extraordinary. She literally has this pull that people (especially boys) can't resist and she always gets what she wants, and when they're of no use, she easily disposes of them and calls in the next one. Boys, money, and artificial things don't matter to her, except her little sister. Ruby may be lots of things, but when it comes to Chloe, she would do anything for her, even when it doesn't seem like it. She is, in the long run, a twisted version of a good sister.
One crazy effect this book had on me was how I somehow kept putting my sister in Ruby's shoes and me in Chloe's. I really don't know why! Every time I think about this book, my sister's face pops into my mind. It's creepy, we're nothing alike to these characters except that we're sisters and we protect each other. I've read plenty of good books about sisters but nothing comes close to how connected I feel to Imaginary Girls. I really don't know how to explain this, I'll just add it as another mystery for this book.
Nova Ren Suma has a unique writing style that I know many would love yet others dislike. At least speaking about Imaginary Girls, this read you will either feel something about it or nothing at all. I personally enjoyed this book, Nova is a really talented storyteller. She goes for the unexpected and doesn't fear to leave us readers with more questions raised than answers we will desperately want. It might put you off at first, but the mystery makes it even more intriguing. I can't wait to check out other titles by this author and I hope they will be as interesting as Imaginary Girls.