I've been a book blogger for years, but this year it's the first time that I've been reading seasonal YA books to get into the holiday spirit. So in preparation for Christmas, I want to share with you my TBR list of YA books that are perfect for curling up with besides your Christmas tree with a hot drink or that would make excellent gifts for YA book lovers! 
YA HOLIDAY READS
Dash & Lily's Book of Dares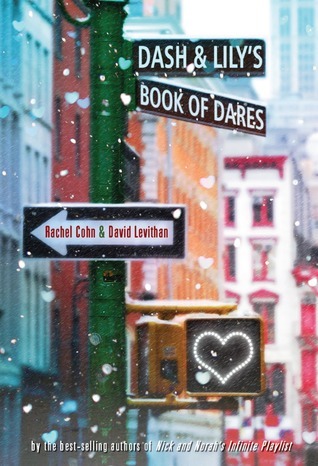 by Rachel Cohn and David Levithan
I've left some clues for you. If you want them, turn the page. If you don't, put the book back on the shelf, please." So begins the latest whirlwind romance from the New York Times bestselling authors of Nick & Norah's Infinite Playlist. Lily has left a red notebook full of challenges on a favorite bookstore shelf, waiting for just the right guy to come along and accept its dares. But is Dash that right guy? Or are Dash and Lily only destined to trade dares, dreams, and desires in the notebook they pass back and forth at locations across New York? Could their in-person selves possibly connect as well as their notebook versions? Or will they be a comic mismatch of disastrous proportions? Rachel Cohn and David Levithan have written a love story that will have readers perusing bookstore shelves, looking and longing for a love (and a red notebook) of their own.
This holiday favorite is sure to give you all the warm feels! Set in New York a few days before Christmas, two teens will follow dares and brave hectic places as they slowly fall in love with each other. This is my current read and I couldn't have started with a better read! Consider me in love. ♥

The Twelve Days of Dash & Lily
by Rachel Cohn and David Levithan
Dash and Lily have had a tough year since they first fell in love among the shelves of their favorite bookstore. Lily's beloved grandfather suffered a heart attack, and his difficult road to recovery has taken a major toll on her typically sunny disposition.
With only twelve days left until Christmas—Lily's favorite time of the year—Dash, Lily's brother Langston, and their closest friends must take Manhattan by storm to help Lily recapture the unique holiday magic of a glittering, snow-covered New York City in December. 
Fans of Dash & Lily's Book of Dares, rejoice! Rachel Cohn and David Levithan just released its sequel, The Twelve Days of Dash & Lily, and it will make you fall back in love with these characters (or so I've heard!). This book is a must have if you have read or if you are about to read Dash & Lily.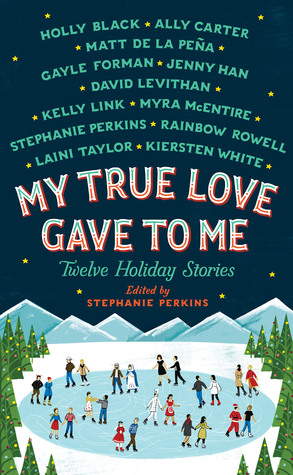 My True Love Gave to Me
edited by Stephanie Perkins
If you love holiday stories, holiday movies, made-for-TV-holiday specials, holiday episodes of your favorite sitcoms and, especially, if you love holiday anthologies, you're going to fall in love with My True Love Gave To Me: Twelve Holiday Stories by twelve bestselling young adult writers, edited by international bestselling author Stephanie Perkins. Whether you enjoy celebrating Christmas or Hanukkah, Winter Solstice or New Year's there's something here for everyone. So curl up by the fireplace and get cozy. You have twelve reasons this season to stay indoors and fall in love.
My True Love Gave To Me is a collaboration of twelve holiday stories written by twelve bestselling authors (and most of them are my favorite authors as well!). This book was edited by Stephanie Perkins and I couldn't trust another author more to bring only the best stories for this anthology. This anthology also includes a short story by David Levithan (co-author of Dash & Lily's Book of Dares) so you know you are in good hands!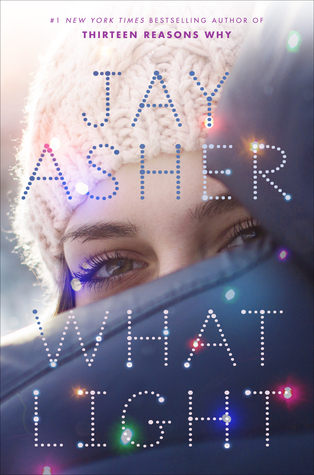 What Light
by Jay Asher
From Jay Asher, #1 New York Times bestselling author of Thirteen Reasons Why, comes a romance that will break your heart, but soon have you believing again. . . .
Sierra's family runs a Christmas tree farm in Oregon—it's a bucolic setting for a girl to grow up in, except that every year, they pack up and move to California to set up their Christmas tree lot for the season. So Sierra lives two lives: her life in Oregon and her life at Christmas. And leaving one always means missing the other.
Until this particular Christmas, when Sierra meets Caleb, and one life eclipses the other.
By reputation, Caleb is not your perfect guy: years ago, he made an enormous mistake and has been paying for it ever since. But Sierra sees beyond Caleb's past and becomes determined to help him find forgiveness and, maybe, redemption. As disapproval, misconceptions, and suspicions swirl around them, Caleb and Sierra discover the one thing that transcends all else: true love.
What Light is a love story that's moving and life-affirming and completely unforgettable.
What Light is one of my most anticipated novels of this year! The cover alone tells you that this book is perfect for this time of year and I love that it's about Christmas trees — one of my favorite things about the holidays! So if you're looking for a cute & sweet contemporary read, then this one is surely for you (or the one to gift!).
Let It Snow
by John Green
The New York Times bestseller!
Sparkling white snowdrifts, beautiful presents wrapped in ribbons, and multicolored lights glittering in the night through the falling snow. A Christmas Eve snowstorm transforms one small town into a romantic haven, the kind you see only in movies. Well, kinda. After all, a cold and wet hike from a stranded train through the middle of nowhere would not normally end with a delicious kiss from a charming stranger. And no one would think that a trip to the Waffle House through four feet of snow would lead to love with an old friend. Or that the way back to true love begins with a painfully early morning shift at Starbucks. Thanks to three of today's bestselling teen authors—John Green, Maureen Johnson, and Lauren Myracle—the magic of the holidays shines on these hilarious and charming interconnected tales of love, romance, and breathtaking kisses.
Another anthology to look out for is John Green's Let It Snow, featuring works by himself, Maureen Johnson, and Lauren Myracle. The great thing about this anthology is that the three stories by these authors interconnect with each other since it is based around the same town during Christmas Eve. I've heard nothing but great things about this romantic holiday read!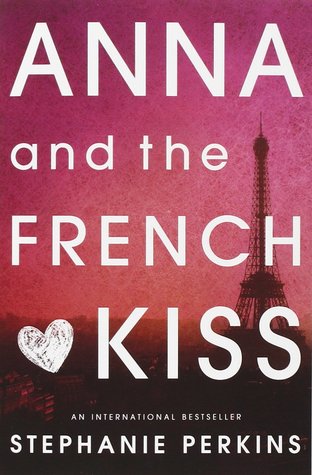 Anna and the French Kiss
by Stephanie Perkins
Can Anna find love in the City of Light?
Anna is happy in Atlanta. She has a loyal best friend and a crush on her coworker at the movie theater, who is just starting to return her affection. So she's less than thrilled when her father decides to send her to a boarding school in Paris for her senior year.
But despite not speaking a word of French, Anna meets some cool new people, including the handsome Étienne St. Clair, who quickly becomes her best friend. Unfortunately, he's taken —and Anna might be, too. Will a year of romantic near misses end with the French kiss she's waiting for?
Anna and the French Kiss is authored by the same author who edited My True Love Gave To Me. This book is not set exclusively around Christmas time, but it does have a few scenes during the holidays to warm up your heart. It's an absolute favorite of mine and I would recommend it to readers who are not that into holiday books!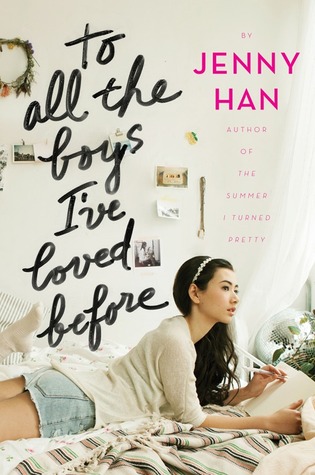 To All the Boys I've Loved Before
by Jenny Han
To All the Boys I've Loved Before is the story of Lara Jean, who has never openly admitted her crushes, but instead wrote each boy a letter about how she felt, sealed it, and hid it in a box under her bed. But one day Lara Jean discovers that somehow her secret box of letters has been mailed, causing all her crushes from her past to confront her about the letters: her first kiss, the boy from summer camp, even her sister's ex-boyfriend, Josh. As she learns to deal with her past loves face to face, Lara Jean discovers that something good may come out of these letters after all.
To All the Boys I've Loved Before by Jenny Han might also not be a holiday read, but it is a great read for this time of year (and any other time a well) thanks to its famous scene of Lara Jean's Christmas Cookie Bonanza! This book will surely make you want to bake all your favorite holiday recipes (and swoon in the process too 😉 ).
And that's the end of my list! What are some of your favorite YA holiday reads?