Today I am pleased to have Lydia with us for a gif interview! In case you are new to the site, a gif interview is where the author is only allowed to answer my questions using gifs. I hope you enjoy it! 
Hello, Lydia and welcome to the blog!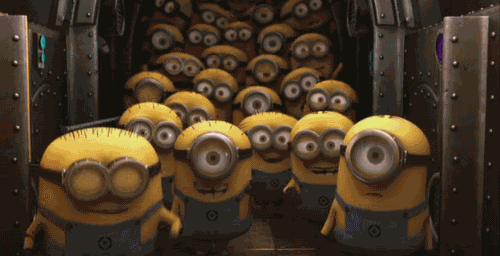 (Despicable Me owned by Universal Pictures)
What is your reaction when you walk into a new bookstore?
(Modern Family owned by ABC)
What does it look like when you start writing a new idea?
(Community owned by Sony Pictures Television)
You meet your favorite author in person. What is your reaction?
(Star Trek: The Next Generation owned by Paramount/CBS)
How do you feel when you are editing?
(30 Rock owned by NBC)
What is the hardest scene for you to write?
(Lady and the Tramp owned by Walt Disney Productions)
Are you competitive at any sport/hobby?
(The Simpsons owned by Fox)
Thank you for visiting the blog, Lydia. It was such a pleasure to have you!
(The Truman Show owned by Paramount Pictures)
About the Author:

Lydia Schoch is a sci-fi/fantasy author who loves reading this genre almost as much as loves writing it. She was born in the United States and now lives in Toronto. Her latest book is Waiting for Earl to Die and other stories.
Connect with her on Twitter | Website | Goodreads


About the Book:

Have you ever wondered what it's like to be….
A fading pop star whose memory is beginning to slip on her farewell tour.
An old, cantankerous man who isn't ready to die.
A little girl who both is and isn't exactly what she appears to be.
A man living with severe food allergies who would give absolutely anything for a cure.
Everyone has a story hidden deeply inside themselves, but not everyone realizes exactly what that story is whispering into their ears.
Purchase at Kobo