Today I am pleased to have Liza Wiemer with us for a gif interview! In case you are new to the site, a gif interview is where the author is only allowed to answer my questions using gifs. I hope you enjoy it!
Hi Liza! I'm so excited to have you here today!  You are only a few days away from being a published author. How do you feel about that?
(Source Ultimate Fun Facts)
Hello? is written in several POVs, so tell me… do you have a favorite among your characters? (Promise I won't tell!)
(Source Tumblr)
What will you probably do when you see Hello? in bookstores and/or libraries?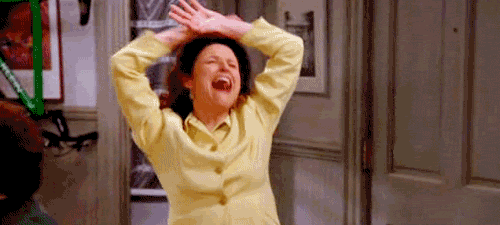 (Seinfeld owned by Sony Pictures Entertainment)
What is your favorite thing about being an author?
(Aladdin owned by Disney)
Is there any kissing in your book? *giggles*
(Source)
Besides from contemporary, which other genres would you love to try your hand at?
(Source)
Do you have any particular writing habits?
(Source Gifsoup)
Do you have a secret identity? 😮
(Pride and Prejudice owned by Focus Features)
Heroes or villains?
(Spider-Man owned by Sony Pictures/Disney)
Is there anything else you would like to share with us?
(Harry Potter owned by Warner Bros. Pictures)
Thank you so much Liza for dropping by the blog! Loved all your answers. 😀
Liza Wiemer married the guy who literally swept her off her feet at a Spyro Gyra concert. Their love story can be found on Liza's "About" page on her website, LizaWiemer.com. Besides being a die-hard Packer fan, Liza is also a readaholic, a romantic, and a lover of crazy socks and rooftops. Hello? is her debut YA novel. She also has had two adult non-fiction books published as well as stories and articles in various national publications. She's a graduate of UW-Madison with a degree in Education and the mother of two sons. Say HELLO to Liza on Twitter: @LizaWiemer.
Twitter | Facebook | Instagram | Website
About Hello?:
One HELLO? can change a life. One HELLO? can save a life.

Tricia: A girl struggling to find her way after her beloved grandma's death.
Emerson: A guy who lives his life to fulfill promises, real and hypothetical.
Angie: A girl with secrets she can only express through poetry.
Brenda: An actress and screenplay writer afraid to confront her past.
Brian: A potter who sets aside his life for Tricia, to the detriment of both.
Linked and transformed by one phone call, Hello? weaves together these five Wisconsin teens' stories into a compelling narrative of friendship and family, loss and love, heartbreak and healing, serendipity, and ultimately hope.
Told from all five viewpoints: narration (Tricia), narration (Emerson), free verse poetry (Angie), screenplay format (Brenda), narration and drawings (Brian).
Purchase on Amazon