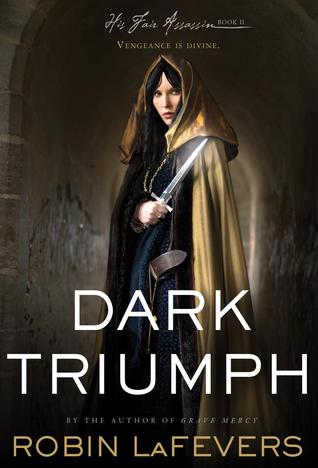 Title: Dark Triumph
Series: His Fair Assassin (Book 2)
Author: Robin LaFevers
Published: April 2, 2013
Pages: 385 pages
Format: eBook
Source: Netgalley
Summary (Goodreads):
When Sybella arrived at the doorstep of St Mortain half mad with grief and despair the convent were only too happy to offer her refuge – but at a price. The sisters of this convent serve Death, and with Sybella naturally skilled in both the arts of death and seduction, she could become one of their most dangerous weapons.
But her assassin's skills are little comfort when the convent returns her to the life that nearly drove her mad. Her father's rage and brutality are terrifying, and her brother's love is equally monstrous. But when Sybella discovers an unexpected ally she discovers that a daughter of Death may find something other than vengeance to live for…
___________
I'm soooo in love with this series! Dark Triumph is the sequel to Grave Mercy and it was one amazing read. At first I was afraid that I wouldn't like this book as much as I did Grave Mercy since I was quite fond of Ismae and Duval as the main characters, but I shouldn't have worried because Sybella and the Beast totally rocked my world and are now my favorite couple.
And why? Because they are so perfect for each other! Sybella with her assassin skills and smart persona, and Beast because of his battle lust and loyalty towards the duchess of Brittany. I adore them both, although Beast is my favorite of the two. He is an ugly man (thus his nickname) but his heart is made out of gold. I know he doesn't have the good looks you would expect from your knight in shining armor, but because of how amazing he is, you can't bring yourself to care about something so superficial. I'm so glad Sybella saw through his looks and trusted her heart with him.
And focusing a little bit more on the storyline, in Dark Triumph we learn more about Sybella's interference at the end of Grave Mercy and how her signal saves the duchess of Brittany from her father's ambush. And, while this happened, Beast was captured and locked away. Since Beast is legendary and much needed to fight the people who are against the duchess, Sybella receives orders from the convent of St. Mortain to set him free, not knowing that in the process, she might find her own much sought freedom as well.
Dark Triumph is a little bit darker than Grave Mercy since Sybella is not exactly a happy person in comparison with Ismae. Sybella has had a rough life, her father is pure evil and her brothers and sisters have suffered dearly for it. There are many twisted and revolting things mentioned in this book, like incest between her and one of her brothers. It wasn't her fault of course, but the pressure of taking care of or seeking out refugee, not to mention her beauty, provoked that in her closest brother and confused their relationship. In fewer words, her life is a living nightmare.
And like a great historical fiction involving assassins, there's endless action and treachery at every moment. Robin LaFevers once again did a fantastic job bringing history back to life with a wicked dash of fantasy, and I just can't wait to read the final book in His Fair Assassin trilogy. Considering that I loved the first two books, I'm fairly confident that I will love Mortal Heart as well.