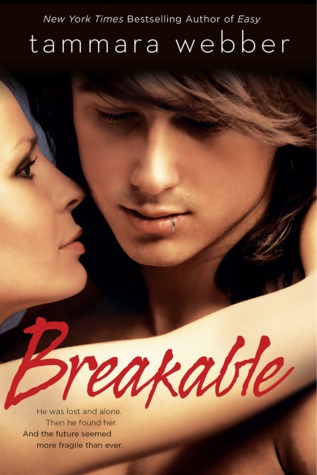 Title: Breakable
Series: Contours of the Heart (Book 2)
Author: Tammara Webber
Published: May 6, 2014
Pages: 361 pages
Format: Audiobook
Source: Purchased
Summary (Goodreads):
He was lost and alone. Then he found her.
And the future seemed more fragile than ever.
As a child, Landon Lucas Maxfield believed his life was perfect and looked forward to a future filled with promise — until tragedy tore his family apart and made him doubt everything he ever believed.
All he wanted was to leave the past behind. When he met Jacqueline Wallace, his desire to be everything she needed came so easy…
As easy as it could be for a man who learned that the soul is breakable and that everything you hoped for could be ripped away in a heartbeat.
_______
I can't believe it took me so long to read/listen to Breakable! I deeply loved Easy (main companion novel) as it was an astonishing, eye-opening read about sexual assault that left me breathless and wanting for more from its characters. Well, Breakable for sure delivers everything I wanted to know that wasn't mentioned in Easy, and since it's Lucas side of the story, it shows us more about him, his past, and his feelings. Um, yum!
I think this book was so much more intense than Easy. Hard to believe, I know, but learning about Lucas' awfully dark past helped a lot to understand his character better. I loved having the chance to go through every layer of his, to know his deepest secrets, his deepest fears, and to discover his vulnerable side. Gosh, Lucas is so beautiful and brokenly perfect, I didn't think it was possible to love him more than when I met him in Easy, but I was wrong, my love for him grew ten times more.
Tammara Webber is an extremely talented writer. I liked how she skillfully merged her first novel (told in Jaqueline's POV) with Lucas' and ended up creating a book that can hold itself up on its own without a problem. It's a whole new experience even when I already knew half of the incredible story.
On all accounts, Breakable is a raw and painfully real book that must be read soon by any NA contemporary lover out there. Just like Easy, it shows the harsh reality of the emotional toll taken when faced with sexual assaults and how it can severely affect lives. But fear not because above everything else, it has an incredible love story that overcomes anything and will make your heart soar with happiness.