#K8chat is a weekly chat for authors AND readers. Every week we join together to talk about a new book/publishing topic, usually with an awesome special guest and prizes! #k8chat is held every Thursday at 9pm Eastern. You can check out our previous chats log on the #K8chat page.
This week on #K8chat I (@K8Tilton) will be joined by special guest Natalie Sampson (@nsampson17). This week we are chatting about nonfiction in fiction. Join in to learn about non-fiction found inside fiction books and share your experiences.
About Natalie Sampson:

I am a momma to four bipeds and three quad-peds living in Halifax, NS Canada. My 'day job' is a speech language pathologist and my dream job is a writer who can pay the bills. My debut novel was published in November of 2013 with Fierce Ink Press, an indie publisher in Atlantic Canada and I have three more WIPS in the works. When I'm not working or sitting in a hockey rink or the taxi mini van, I like to read and take pictures.
Giveaway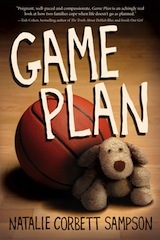 an ebook of Game Plan
Missed the chat?
Don't worry you can catch up HERE!